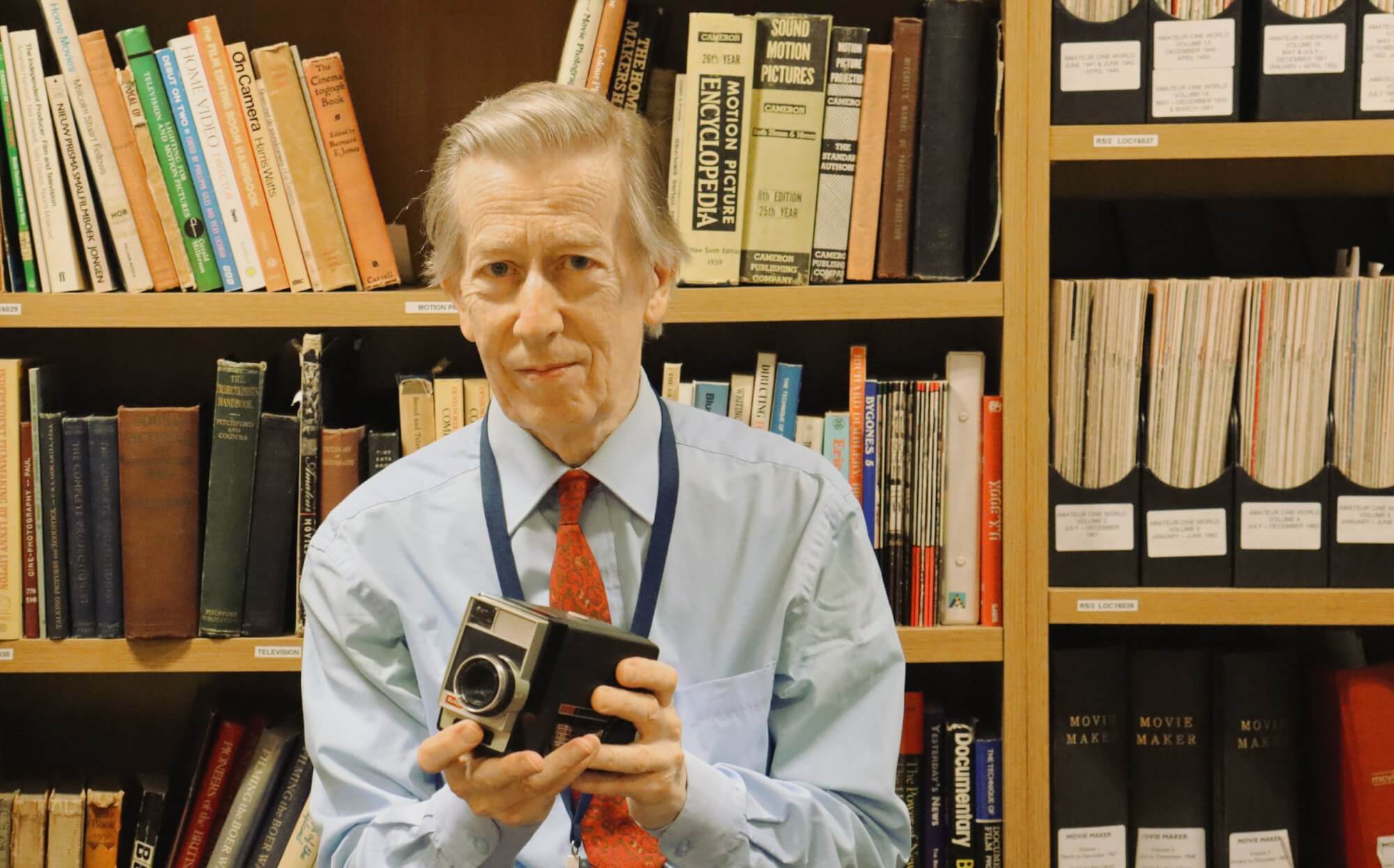 Each week Phillip Collins, Film Archivist for the Institute of Amateur Cinematographers (IAC), joins us at EAFA to care for and research the internationally significant IAC Collection, which we are proud to hold in our archive. We caught up with Phillip to find out more about his life's work, and to delve into some of the brilliant films from the IAC collection. 
EAFA: Can you please tell us how you began your life in film, Phillip? Did it start with the camera you've brought in today? 
PC: This was my first camera, a standard 8mm, from 1963. It's just about the simplest thing you can have. On this one side of it is an exposure guide which tells you what aperture of the lens to use. At the time I was using 25 ASA Kodachrome film. There's only one control for the start-stop, there's only one control to set the aperture of the lens. It's got a wind-up spring motor, so no problem with worrying about batteries running down. A single speed of 16 frames per second.  
This camera was a present for my 14th birthday and the reason I got this was because I moved to my secondary school which was quite a long walk from where we lived in Upper Norwood. I said to my parents, "Can I have a bike?" And they were very reticent because in those days there were a lot of accidents in London involving youngsters on bikes. We didn't have crash helmets, and there were a great many accidents of all kinds on the roads. So parents didn't want you to [cycle]. And they thought for a while and they said, "Would you like a cine camera instead of a bike?" And I thought, "That's interesting, nobody I know has got a cine camera." And that was it.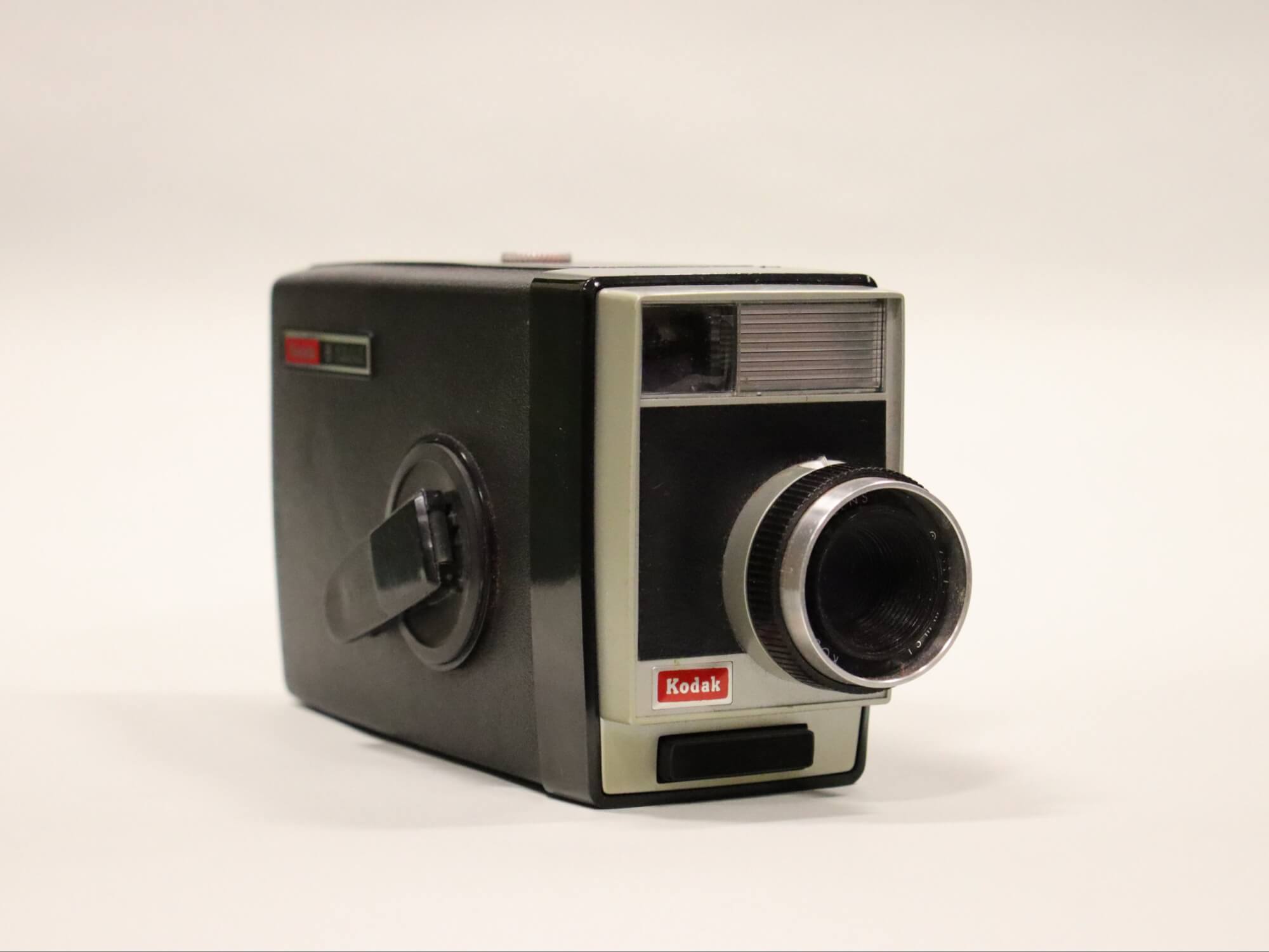 EAFA: When did you first become involved with the Institute of Amateur Cinematographers (IAC)? 
PC: I joined the IAC in November 1978 and in those days I was living in St Ives in Huntingdonshire. I belonged to St Ives cine club. As far as the IAC was concerned, I very quickly became involved with the East Anglian region. In September 1982 I joined what was then called Norwich Cine club and quickly got involved with running it, being on the committee.  
It was still in the age then of film only, mostly super 8 varieties, and there was still an argument about standard 8 or super 8 film, and there still is in some quarters. We had a very large number of keen people and a group of exceptionally good film makers, and a number of people who were experimenting with synchronised sound, recording with direct sound cameras. 
EAFA: How did you move from being involved on the regional level to becoming the IAC's Film Archivist? 
PC: The IAC Film Library, which was originally a cine film library, began in 1933 and they had the idea that some of the winning films from the IAC Competition of that year should be copied for hiring by the members. Eventually it came to the point where there were more than 1400 separate titles.  
A number of very dedicated people were appointed by the council of the IAC to be Film Librarian and they oversaw the sending out the films, the receipt back from clubs and the individuals in the IAC who would hire them, and then they checked the films for any breakages, if any splices were broken, whether any repairs were needed.  
For a time the Film and Video Librarian was Kenneth Seager. I worked with Kenneth as his Assistant Film Librarian, and then I became the Film and Video Librarian and Kenneth became my assistant. Kenneth and I always acknowledged the sterling work done first by Sidney Manasseh and then by Bernard Ashby – both IAC Fellows – which put the film and video library into such fine condition. Then a few years ago the IAC changed my job from Film and Video Librarian to Film Archivist. My role is the cataloguing, viewing, writing descriptions, and joining in the techniques here [at EAFA] of preservation of the IAC films.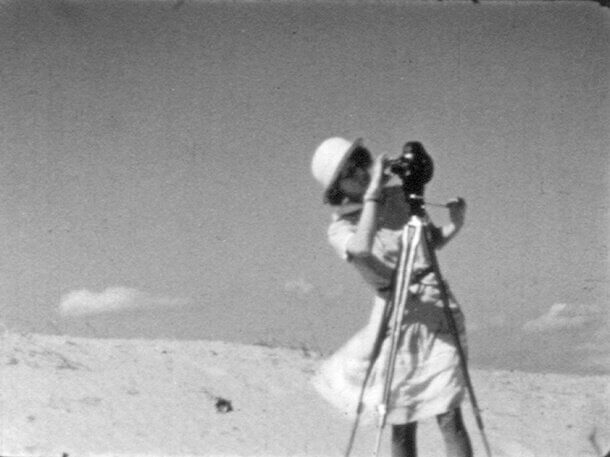 EAFA: Can you recommend your personal highlights of the IAC collection, which people could watch on the EAFA website? 
PC: I would say Button Ballet, which is animated buttons, and you can't see the wires are suspending them. Albert Noble was the filmmaker. It's in colour.  
We also have a large number of films in the IAC collection which were made by exceptionally good women film makers. I'd listed them separately and I thought, "This is interesting. Is there any mileage, is there any academic interest?" And there was. The first big [academic] project became the Women Amateur Filmmakers project.  
On the Super8 side for story films I would recommend Reign of the Tigers, which was one of two films made in the in the early 1980s by a group of young film makers called the Abbey Film Unit. Very fast moving and very imaginative sound.  
I would say Pipeline To Paradise. It was made by Gordon Rowley in 1960, and it is a 16mm colour sound film, about the joys of watering the garden, with a great deal of time lapse work, and superb photography set to music. All of the films I mentioned had won major awards.  
I think the ultimate humanist amateur film I have seen so far is E Poi Venne La Pioggia by Massimiliano Poltronieri, which won the IAC's top award – the Daily Mail Trophy – in 1975. 
And if we want to go back to the time of the late forties, one of the major works was Marionettes, and it was started in 1939 by Ace Movies who had their own studio and all of their activities were involved in making films. And they started it in 1939. Then a few months after they started the film, Mr Hitler started his nonsense, and it wasn't taken up again until after the War. When they all came back from the conflict they said, "Right, where were we? You were standing there, you were there, the camera was here. We've seen what we've done already. Let's do the next shot." And they got on with it. And in 1948, nine years after they started it, they finished it, and it won a Ten Best Award and other prizes.