Guest Curators Celebrate 40 years of EAFA
14 February 2021
By The EAFA Team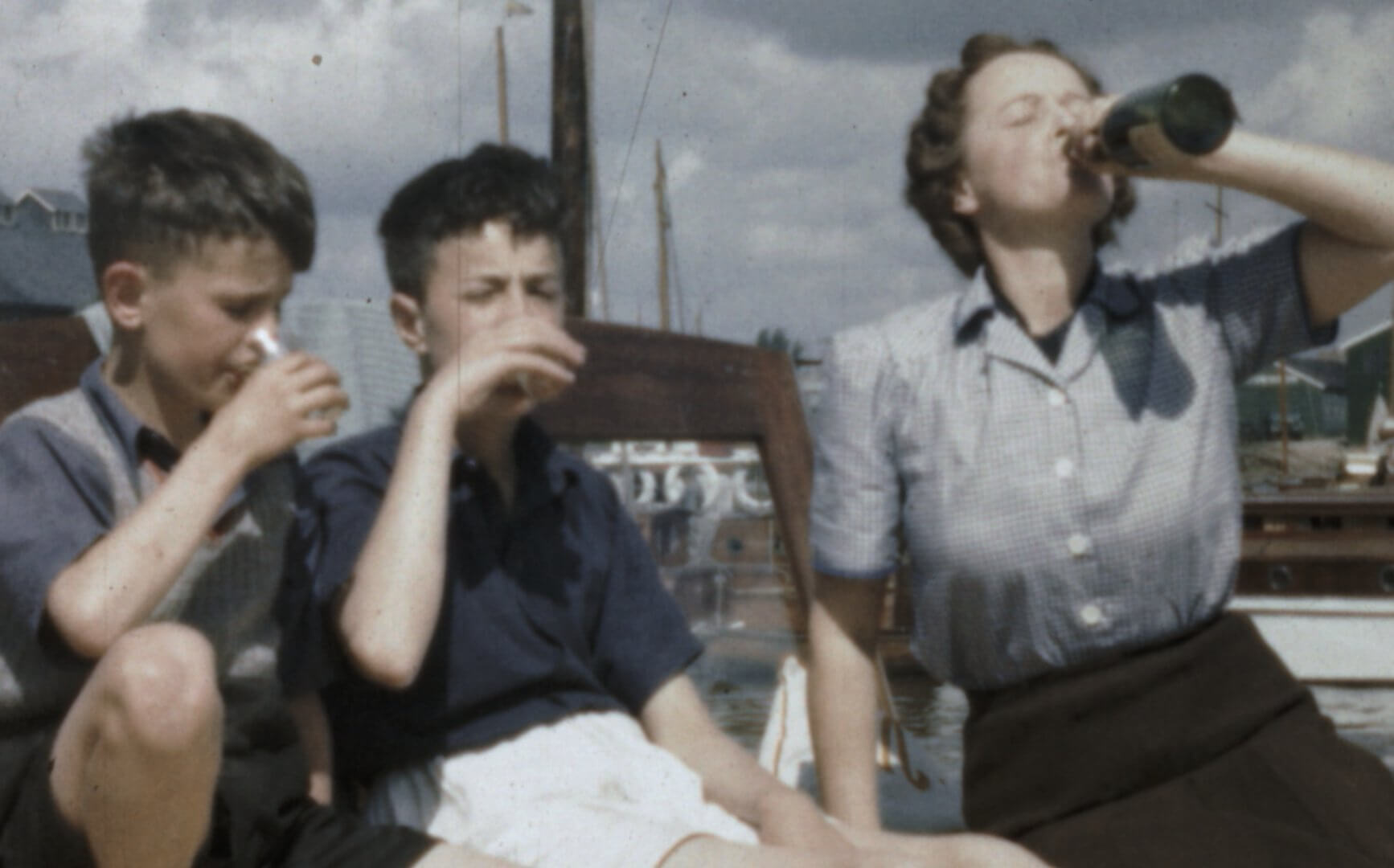 The East Anglian Film Archive was established in 1976 (and part of the University of East Anglia since 1984)  –  we celebrated our 40th anniversary in 2016.
The collection built up over a forty year period includes thousands of films and television programmes from 1896 to the present day, including unique collections from Anglia Television, BBC East, and the Institute of Amateur Cinematographers. The collection includes approximately 75,000 catalogue titles and 148,000 physical items in total in the vaults.
To mark the occasion we invited guest curators including UEA alumni, honorary graduates of UEA and people involved in the film industry to write responses to a small selection of EAFA's films.
We are grateful to everyone who has contributed to the celebrations in this way.
Hayley Long on 'University of East Anglia (1982)' – Cat no. 921
Oh my word! This film is an absolute gem. In 1982, the UEA's marketing department were clearly tackling the question of how to encourage applications from overseas students and their answer was this short promotional film.
'The lectures are not compulsory,' says one young man in a clipped English accent. Another voice – female this time but also clipped – says, 'You don't have seminar leaders telling you what to do – if you fail it's your fault.'
And, as if that sense of ownership over your own potential failure were not incentive enough, this film just keeps getting better! Young women with Lady Diana haircuts and immaculate white blouses chat together as they stir their baked beans in a shared kitchen. Another girl is shown jogging in sultry slow-motion in her enormous navy PE knickers; and – in my favourite shot of all – Kevin Keegan's dreamy twin schmoozes his way around a class of budding journalists who hang on his every word.
Meanwhile, there are entire rooms filled with computers that look like microwave ovens. Girls party in pink diamond-studded jumpsuits. A future bestselling author sings new wave rock in the student union. Everyone smokes nonchalantly in their graduation gowns.
This place is so ludicrously cool and so impossibly wonderful that I can easily picture the thrilled faces of those potential overseas students of the 80s as they sat in front of their VHS video players and thought, 'Norwich, I am on my way.'
– Hayley Long  – November, 2016
DJ Taylor on 'The Singing Postman (1967)' – Cat no. 756
I am just about old enough to remember the Singing Postman (real name Allan Smethurst) in the days when he was famous. Certainly I can recall hearing his signature song 'Hev Yew Gotta Loight, Boy?' blaring out of a radio sometime in the late 1960s. He really was, or had been, a postman and the GPO – as it then was – allowed him to keep the uniform and be filmed cycling around the Norfolk back-lanes in it for promotional purposes. In his early to mid-Sixties heyday he joined a whole roster of weird and all-but unclassifiable pop acts such as Wee Willie Harris and Pinky and Perky who burned brightly for a year or so and then sank beneath the waves of fashion.
To some listeners the Postman's doleful evocations of life out on the East Anglian flat were novelty songs, pure and simple. To me he is a genuine folk poet hymning a way of life that had already begun to disappear when he wrote about it – see a song like 'Following the Binder Round' in which the whole village turns out to secure the harvest. The short promotional films that make up this DVD were originally shot to herald an American tour, in which it was thought that Allan's clear debt to US country music – he took his name from Jimmy Scott, 'the Singing Brakeman' – would enable him to shine as the exponent of 'country and eastern.' Sadly by this time his chronic shyness and stage-fright had taken him to the bottle and the tour never happened.
Smethurst died in 2000, a recluse in a Grimbsy Salvation Army hostel in which he had lived for over a quarter of a century. All we have left of him are the songs and these extraordinary visuals – including the only song of his with a direct political reference, 'They're Orl Playing Dommies in the Bar', with its line about people discussing 'the bomb.' Much more arresting to me is the call and answer of the refrain – 'Kin yer go?' Pause. 'No.' He was the Philip Larkin of Mundesley beach and we should cherish his memory.
– DJ Taylor – October 2016
Stephen Fry on 'Cinema Advertisements (1976)' – Cat no. 44
If there is one area in cultural life that activates the nostalgia glands into frenzy, it is cinema advertising. When we are young, sitting inside a movie theatre, gazing up glassy-eyed before the beginning of the main feature, we are utterly captive.
Watching the archive of 1976 cinema advertisements has been like being attached by electrode to some insane science fiction machine. Out have bubbled emotions and memories that I had thought lost or too deeply buried for recall.
I am in what we unfairly called the Fakenham Fleapit (the Regal, was it?), a warm Kia-Ora in my hands, its foil lid pierced by a straw. There were dazzling feature-film style 35 mm commercials for Gordon's Gin and Benson and Hedges cigarettes but first and the most fun for me were these off cuts of off-the-peg and generic 16mm footage over which were laid details of the Downham Market, Fakenham or Wisbech. My brother's friends and I would hoot with derisive laughter as the bought-in generic slides or dirty 16mm footage were followed by a wobbling card for the local car dealer or electrical appliance shop. The details on these cheerfully naff little ads bring the era alive far more than any scholarly historical record. Colour TVs were still luxurious enough to be available for rental. The recordings of Barry Blue, the Osmonds, Gilbert O'Sullivan, the Bay City Rollers – could be bought on vinyl, cassette or 8-track cartridge playable on your exciting new or used Marina, Cavalier, or Cortina.
And the voices: this archive shows us advertisements provided by Presbury's Screen Advertising, a company later acquired by the iconic and adored Pearl and Dean. It was Guy Presbury who famously advised clients that they should avoid the use of regional accents when advertising. A pity, hilarious as the bland voiceover accents intoned by metropolitan actors are, a fruity Norfolk brogue would have set them off so much better.
These archives are time machines.
– Stephen Fry – August 2016
Gideon Koppel on 'Tramway Ride Through Principal Streets (1902)' – Cat no. 294
The image on screen is monochrome, grainy and vignetted; it pulsates, flickers and is at once, evocative and painterly in sensibility. Dust, dirt and scratches are part of this visual aesthetic and at first distracts the focus of my vision, but then I adjust and find myself travelling down a street behind a horse-drawn carriage. I notice details: the bowler hat of the driver who has his back to us, the sloping wheels and the movement of the horses' hooves glimpsed underneath the carriage.
Out of my peripheral vision I see the pavements and start to build up a picture of the street and its life. Although the film is silent, I can almost hear the sounds of a city vibrant with people and sense the smells of densely populated environment. This could be New York, or London… but it isn't: it is Norwich in 1902.
The pavements are crowded with people going about their business. Who are these people, what were they thinking at that very moment, and what became of them after the camera passed them by?
As I continue the journey through the streets of Edwardian Norwich I become aware that the camera is mounted high up and is slightly tilted down onto the tram tracks running in front of me. The camera movement is beautifully fluid and stable. Combined with precise choreography of people and traffic crossing in front of me, this has an uncanny and incongruous quality of contemporary cinema. This visual sophistication momentarily disturbs the assumed authenticity that certified 'archive' material carries… .
I cast my mind back to what I already know about 1902: this was when the Boer War ended, when Manchester United Football Club was formed, Marmite was invented and 'Heart of Darkness' published. This was also the year that the first permanent cinema opened in the United States – The Electric Theatre in Los Angeles. Exactly a decade later a cinema of the same name opened on the Prince of Wales Road in Norwich.
– Gideon Koppel – August, 2016